You don't need sponsorship for that Visa. Even if you're a new applicant, you can still apply for it. So let me tell you about the Australia Work Visa For Engineers Without a Job Offer in 2023 and how you can apply for it. This Work Visa is called Subclass 476 Work Visa for Graduates. Students, applicants, or those who have graduated can apply for this Visa. Australia has a demand for engineering professionals.
You can apply for this Visa with your recent Bachelor's Degree. The cost of this Visa is very affordable. For the 476 Work Visa, you don't need any work experience. There is no requirement for a job offer, return ticket proof, proof of funds, or a minimum IELTS score. The Australian Subclass 476 Work Visa allows you to stay in Australia for 18 months. Let me provide you with all the details about the Australian Work Visa For Engineers Without a Job Offer.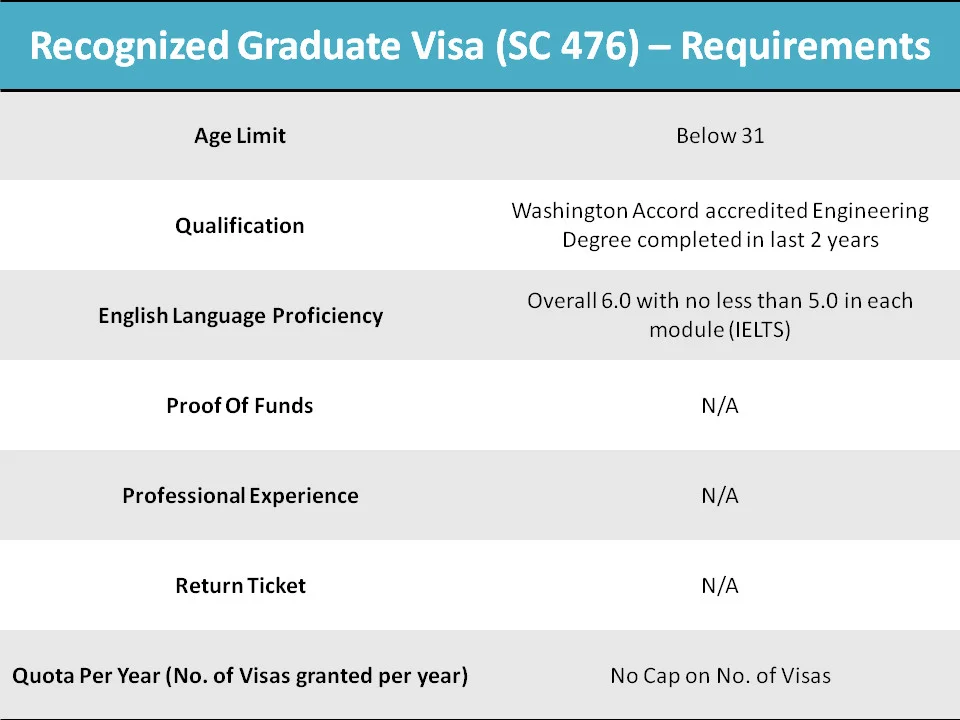 Information on Australia's Work Visa for Engineers without a Job Offer (2023)
The Australia 476 Work Visa enables engineering graduates who completed their studies within the last 2 years to visit Australia even without a job offer or sponsorship. They can stay in Australia for a period of 18 months.
Job Country: Australia
Visa Name: Subclass 476 Work Visa
Job Offer Required: No
Length of Visa: 18 Months
Requirements for Australia 476 Work Visa
This Visa is mainly for engineering graduates who don't have a job offer or those who are searching for a good career opportunity. They can apply for this Visa even without a job offer from an Australian employer.
Bachelors degree
Masters degree
Doctoral Degree
Postgraduate Diploma
You must be graduated in the last two years.
Which types of engineering fields are qualified for eligibility?
If you have a valid Engineering Degree recognized by the Engineering Authority in your country, you can apply for this Visa.
This Visa is open to Engineering Graduates in the following Engineering Disciplines:
Structural engineering
Chemical engineering
Environmental engineering
Electrical Engineering
Electronics engineering
Mechanical Engineering
Production
Plant engineering
Mining Engineering
Material engineering
Computer engineering
Industrial engineering
Petroleum engineering
Software engineering
Systems engineering
Engineering graduates should utilize the Qualification Checker Tool available on this website. By selecting their country, they will receive a list of the Engineering Bodies operating within their respective nations.
Please go to the website of your Engineering organization and see if your degree is listed there. If your Engineering Degree is acknowledged or listed with the Engineering organization in your country, then you meet the requirements.
For instance, in Pakistan, the Engineering organization is PEC, and in Bangladesh, it is IEB. Both of them are part of the Washington Accord.
Countries that have been officially recognized by the Washington Accord.
People from these countries can apply for the 476 Work Visa, even if they don't have a job offer or sponsorship.
Australia

Bangladesh

Canada

Chile
Chinese Taipei

China

Myanmar

Costa Rica

Hong Kong

India

Indonesia

Ireland

Japan

Korea

Malaysia

Mexico

Nigeria

New Zealand

Papua New Guinea
Philippines
Saudi Arabia

Pakistan

Peru

Russia

Singapore

South Africa

Sri Lanka

Taiwan

Thailand

Turkey

United Kingdom
United States
You can visit the Washington Accord Website and look for your country's name among the signatories (Here)
What level of English do I need for a 476 visa?
You can present any one of these.
IELTS: Minimum 5 in each Part
TOEFL: 64
PTE Academic: at least 50
Cambridge C1 Advanced test: Overall at least 169
Eligibility Criteria
You must be under 31 years old.
You must be from one of the above countries.
You must submit complete documents.
You must submit a character certificate
Not previously held 476 work visa
Visa Cost
How long does it take to process 476 visas?
The amount of time it takes to process can be different in each country and depends on when you gave your biometric information. On average, it takes between 84 and 120 days to process.
How can you apply for the Australia Subclass 476 Work Visa?
Once you have thoroughly checked all the details, you can go ahead and apply online through the Australian Immigration Website. The process of applying is quite simple and easy to follow.
Select the Visa, and fill out the Visa form.
Pay the Application Fee.
Make an appointment at the Embassy.
Jobs in Engineering available in Australia
There are many ways to discover job opportunities in the field of engineering.